News from Elizaville
"...In as non-corny a way as possible, my eleven summers at Scatico have shaped me into the person I am today. As I've gotten older and become a counselor and DL, I've only increased my appreciation for camp and everything it has done for me... There will never be a place where I feel more myself than I do at Camp Scatico. At Scatico, I truly feel that I am the best me possible...."
Every fall and winter we receive letters like the one excerpted above from graduated campers and former staff who, realizing their time at camp may be approaching an end (or a hiatus), reflect on how Scatico impacted their lives and focused personal goals and values. their sense of who they are and will become. Often, they share how they discovered a "best me" at
camp and how they hope to bring this to the world beyond camp.
What is it about the camp experience that can make children and adults alike feel at their best? More energetic and productive. A more positive attitude toward day-to-day life. More connected to friends. More respected and more respectful to others. Feeling more valued and appreciated for just being who they are and what they contribute to a community. Less judgmental. Living more in the moment.
While there are specific aspects of the culture we foster at Scatico which we believe creates this magic and joy, recent research is also examining the summer camp experience in general and how it can positively impact lives. What it means to be outdoors (and in sunlight) and physically active. To be away from screens. To be living in a supportive community.
At an upcoming camp industry conference, two keynote speakers consider just this. In The Nature Fix, science writer and environmental journalist Florence Williams examines Attention Restoration Theory and Stress-Reduction Theory, which explore how spending more time outdoors will improve attention spans and moods while lowering anxiety and stress levels.
In The Power of Moments: Why Certain Experiences Have Extraordinary Impacts, brothers Chip and Dan Heath detail common elements found in moments that people identify as life defining. Not surprisingly, the core factors that distinguish these moments—Elevation (think, special event), Insight (a better understanding of ourselves and relationships), Pride (in the things we do and the way we act), and Connection—are all found in abundance in a camp setting.
As another Scatico summer approaches (number 98, if you're counting at home), we look forward to helping each camper and staff member to become their "best me."
Home Sweet Home (when not in Elizaville)
Here's our annual look at where campers live during the other 10 months (based on 2018 enrollment as of January 1):
Westchester- 27.3%
New York City- 18.0%
New Jersey- 16.5%
Connecticut- 9.0%
Long Island- 9.0%
Florida- 6.1%
Other States*- 6.1%
International**- 5.0%
Metro DC/Balt.- 3.0%
*Other States includes California, Georgia, Illinois, North Carolina, Pennsylvania, and Texas.
**International includes France, Hungary, Spain, and Hong Kong.
Wha's Happenin'?
Welcome to the second Wha's Happenin' ? column of the 2017-18 off-season. As always, we'll start with Random Scatico Sightings (RSSes)....
From stadiums and arenas to airports and snow-covered hills to spotting Scatico celebrities (like Chef Jimmy Wexler and girls' head counselor Kerri Winderman), it's been a busy few RSS months. When siblings/cousins Josh and Amanda Klafter, Lauren and Emma Rosh, and Pete and Jack Klafter got together for Thanksgiving in Florida, they spotted head chef Jimmy Wexler (who will celebrate his 13th Scatico summer in 2018)...
Rangers' games at Madison Square Garden provided RSS photo ops for bunkmates Ben Greissman and Brian Schindler as well as for Jenna Miller and Lulu Rubin....
When Lulu's brother Charlie played for his AAU team at the Barclay's Center during halftime of a college game (cheered on by Scatico alumni— cousins Jake and Ben Wolfin, brother Dan Rubin, and former athletics director Ging Vann—Lulu missed the photo to the left), who did they spot on the sideline doing play-by-play for Penn State radio? Former camper and counselor Jon Gross, now a college junior....
After the first significant snowfall of the year, Charlotte Florin and Josh Montvelisky had their RSS while sledding in Rye Brook, NY.... Getting set to fly from New York to Italy to visit older siblings studying abroad, 2017 Junior Counselors Rachel Trichon and Charlotte Dorn spotted each other at JFK airport....
Staying on the theme of "sisters" and "overseas," Georgia and Vivienne Loigman ran into Kate, Anna, and Jane Rosenfeld at the Maskanoo Festival in Turks and Caicos (definitely a first-ever RSS for this country!)... When Lauren Kassin attended a B'Nei Mitzvah for twin friends this fall, she had her RSS moment with Kerri Winderman (who knew the mom of the girls from
college)....
And just having missed the deadline for the fall issue, we include an RSS photo from Maya Miller and Sophie Stein from a September Yankees-Red Sox game at a certain Stadium in the Bronx....
And other news.... Not quite an RSS, but a surprise nonetheless for DC-area divisionmates Zach Chait and Jake Finkel, whose dads arranged a surprise meeting at an October Baltimore Ravens' game.... At Madison Square Garden for a recent event, Jesse Bockstein couldn't resist having a photo taken on the Walk of Fame alongside the plaque for Scatico founder Nat Holman....
Bunkmates Eli Tannenbaum and Logan Cooper competed against each other at a "wood bat" baseball tournament in October.... When 11th-grader Jared Simons toured the University of Delaware with his younger brother Brett, they called on Senior Andrew Nathin to serve as a tour guide (Andrew had been a division leader for both during the summers of 2015 and 2017 respectively)....
Nine of ten 2017 bunk 5-6 campers made it to Josh Mazarin's November birthday party (Tommy Hall arrived too late for the photo above). They only missed seeing Carlos Gil-Delgado (the trip from Spain might have been a bit long for a weekend). Activities included flag football, Ultimate Frisbee, and dodgeball....And, a 2017 Centers' reunion drew 13 of 17 campers to Ella Simons' house for a sleep-over....
Thanks for staying in touch! For the Spring Camper Newsletter issue, send along all Scatico news, non-news, and photos to info@scatico.com
Survey Says...
Thanks to all who returned the summer of 2017 camper surveys. In the Fall Alumni Newsletter we shared some results about Favorite Activities and Special Events. Below, we take a look at Favorite Things about Scatico. In the Spring Newsletter, we'll travel to the Dining Room.
Favorite Things About Camp
Friends/Bunkmates
Everything
Feels like Family
Constant Fun
Color War
Activities
Community
Traditions
Meeting New People
We can't argue with any of this... and love the focus on "people over things." Because the an-
swer to this question was in response to an open-ended question rather than asking campers to check boxes, we also wanted to share a few of the responses at the bottom of the list—which capture some of the bits and pieces that add together to make camp a sum greater than its parts: Milk and Cookies before bed; Camp Sisters; Boys Lower Hill Soccer League; DJ Pure; and (maybe our favorite answer) Being There.
In the Works for 2018
Though just in the planning stages....
New "toys" for the waterfronts: inflatibles, boats...
Conversion of the Canteen Extension into a staff lounge (also open to campers for special events). This was an idea generated by Junior Counselors during a "Scatico in Ten Years" brainstorming session held one evening last summer.
New fencing for the girls and boys ballfields to include an additional larger backstop on one boys' field to make it more suitable for baseball rather than softball.
The discerning Scatico eye will also spot other additions/improvements, including: bathroom renovations; re-surfaced basketball and tennis courts; lots of new landscaping and roadwork; and new storage areas and activity supplies/equipment.
Upcoming Parent Mailings
February—Summer Forms: Clothing List, Shipping and Luggage, Health Histories, Horseback Riding, Transportation, Camper Confidentials, Permissions
April—Parents' Handbook: Information to get you ready for the summer of 2018, including details on Opening, Visiting, and Closing days.
Please note for this year that we have moved the Open House from the second Saturday to the second Sunday in June. The 2018 Open House (for all first-time campers, including 2017 1-weekers) will be held on Sunday, June 10, from 12:30PM to 3:30PM at camp.
Mark Your Calendars
Open House: Sunday, June 10 (Sunday not Saturday in 2018)
Opening Day: Saturday, June 23
Visiting Day: Saturday, July 14
Scatico-In-Training: Sunday, July 22, to Saturday, July 28
Closing Day: Saturday, August 11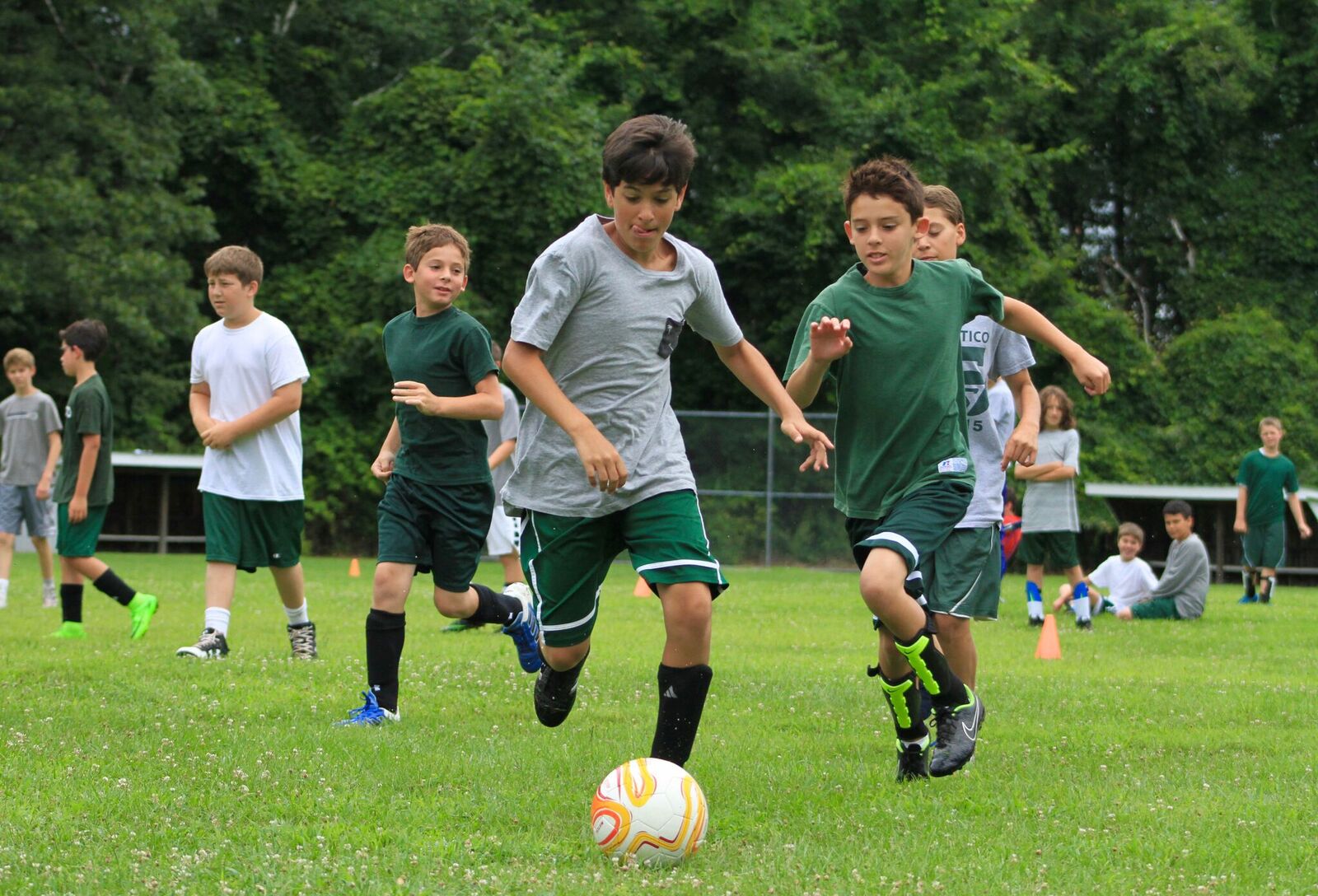 Playing sports at camp... Girls' softball tournament team; Color War soccer game; Nat Holman Basketball Tournament.