Near the very end of Open Mic night 2017 in the amphitheater, right about the time lifeguard Fergus Carlin finished singing a mournful Irish ballad accompanied on acoustic guitar by music counselor Jamie Hamburg, the sun nestled atop the trees, swelled enormously for a moment, and then slipped from sight. In that instant, the light reflected a staggering range of purples, golds, and reds simultaneously across the sky and the glass-still surface of the lake; the light seemingly beginning and ending from all directions at once. From the audience a collective, reverential intake of breath....
Each Scatico summer is filled with such moments—both large and small. The resident bald eagle swooping low over general swim; a moonless night in early August when the stars seem close enough to touch—until one shoots across the sky; a prehistoric-looking turtle emerging from the woods in late June to lay its eggs; fog blanketing the lake during a walk to breakfast; a sudden summer rainstorm ending just as suddenly, sunshine and a rainbow magically appearing in its wake.... Over the course of several summers, many of these moments are repeated, so that they are recalled generally, fondly, as part of a collective camp memory—like sitting with divisionmates at a campfire or lining up around the flag pole each evening before dinner.
Occasionally, the moments aspire to something more.... In 2013, midway through a July evening activity, a double rainbow, colors intensely vivid and delineated, arced a full 180 degrees from horizon to horizon. Rainbows since then almost all seem measured against this standard. Perhaps so too, the sunset of July 29, 2017. The full camp together for a dinner BBQ, the annual Art Show at the canteen, Open Mic night at the amphitheater, and then—sunset magic....
Summer memories for our campers in general are a collection of the large and small, instances that reverberate within us into the future both collectively and individually. Games on the athletic fields and a single game-winning hit. Afternoons swimming at the lake and remembering the swim instructor who took the extra time to improve your swim stroke. The closeness of friendships with bunkmates and the specific moment when a friend supported you at a time when you most needed this support.
And, naturally, camp creates an opportunity to stop (no, really stop) and just take in a sunset, or a rainbow, or a star-filled sky, or an eagle swooping low....
July 28, 2017, at 8:33PM
Open Mic Night has just ended, and girl campers watch the sunset from their fishing dock. If you look closely, you can see boy campers at their waterfront in the left background.
Last-night-of-camp blues?
You may not be able to recreate fully the banquet, awards ceremony, and campfire at home, but you can watch the closing-night Slideshow and Video Yearbook RIGHT HERE. Dim the room lights and pretend you're lying on the Pavilion floor....
Wha's Happenin'?
Welcome to the first "Wha's Happenin' ?" column of the 2017-18 off-season. As always, we'll start with Random Scatico Sightings (RSSes)....
Visiting Emory University with his dad on a late-August college tour, CIT Shay Rubinson spotted former camper and counselor Jack Swerdlin, who was Shay's counselor when he was an Inter in 2013.... Off to the beach after camp? Always the potential for an RSS.... Rachel Karlin ran into Justin Zucker on the boardwalk in Point Pleasant, NJ, and Lauren Kassin connected with sisters Jenna and Marissa Miller in Rehoboth Beach, DE....
When Sophie Araten went to see her hometown high school's field hockey team play in September, she spotted a Scaticonian on the opposing squad—Lulu Rubin.... Despite a challenging summer for his favorite sports team, head counselor Cory Schwartz traveled to Citifield to see the New York Mets play a few days after camp with CIT division leader and baseball counselor Chase Madorsky. There they had an RSS with Daphne and Ellis Zuckerman. Chase, a Junior at UCLA, currently heads the University's mentorship program, which matches more than 100 college students one-on-one with youth ages 7 to 18 from nearby North Hollywood in Los Angeles. He also hosts a weekly Major League Baseball sports talk show on the school's radio station (Mondays at 8:00 PM ET), which you can listen to online at UCLAradio.com ....
Other non-RSS Scatico news.... The Inter Girls held a September reunion in New York City (10 of 19 were able to attend) and sent in the photo to the right.... Off to college—former bunkmates and 2017 counselors Sammi Salmirs, Halle Phillips, and Alexa Jacobson shared this photo from their first week as freshmen at the University of Wisconsin.... And, a Junior year abroad, with former bunkmates and 2017 Division Leaders Emilie Dorn and Emily Goldner, who sent in a picture from the Trevi Fountain in Rome (just after tossing coins over their shoulders for good luck)...
Thanks to all of the campers and staff who contributed to this year's collection for Soles 4 Souls (about 100 pairs of sneakers, boots, sandals, and shoes).... And another fall shout-out to the Wilner sisters—Kasey and Sam—who with their parents have again organized a "Scatico" team to help raise money for the Charley's Fund's "Race Against Time" (October 29th in Central Park). The charity works towards finding a treatment and cure for Duchenne muscular dystrophy...
Thanks for staying in touch! Send news, non-news, and photos (and non-photos?) for the Winter issue of the Camper Newsletter to info@scatico.com. As a reminder, we only include info on Scatico get-togethers if the entire division is invited.
Calling all Scatico sunset pics!
Similar to our #viewsofscatico countdown from last year, we're hoping to showcase the Top 10 Scatico sunset photos of all time on our Instagram and Facebook pages... but we need your help! To make it a true, ultimate countdown, we're looking for parent, alumni and camper contributions! So please send along any and all of your favorite Scatico sunset photos (from any summer, from any location on camp, and with our without people!) either via Facebook message or by emailing to nicki@scatico.com. Once we've collected as many pics as possible, a secret team of Scatico specialists will whittle down the candidates and rank our top 10, with one posted a week to get us through the long, cold winter months ahead. We can't wait to see what everyone has to contribute! And who knows... the photographer behind #1, may just have a Scatico prize in store for them. —Nicki
In the Next Issue of the Newsletter...
Survey Results: This is a last call for camper surveys... Favorite meals? Activities? Things you like best about Scatico? Suggestions for 2018? If you haven't returned your survey yet, there's still time.
News from Elizaville: We will bring you up to date on completed fall maintenance projects and capital plans for next season.
Mark Your Calendar
Open House: Sunday, June 10
Opening Day: Saturday, June 23
Visiting Day: Saturday, July 14
Scatico-In-Training: Sunday, July 22 to Saturday, July 28
Closing Day: Saturday, August 11
For Parents
Thanks to all of our families who took advantage of the early enrollment discount period. Our camper return rate for 2018 already exceeds 95 percent (including 9 divisions with 100 percent returns). Parent Bulletins starting in November will walk you through the process of getting ready for the summer, but don't hesitate to contact us directly with any questions along the way.
Finally, if you are ever in the Elizaville area during the off-season and are thinking of stopping by camp, campers love seeing their second home during different seasons—fall foliage ringing the lake or along the tree-lined road; snow on the golf course for sledding... Just call or email when you'd like to make the trip.
As the NBA season approaches, every Scaticonian's new favorite team just may be the Denver Nuggets (with their first-round pick Tyler Lydon). Tyler grew up in Elizaville on property bordering the woods behind the ballfields and is a cousin of Scatico caretaker Teddy Lydon. Tyler stopped by camp several times during the summer after the NBA draft, including the
surprise night-time visit in the photo above, when he spent an hour hitting flyballs to campers spread across the Field Four outfield.
Color War 2017....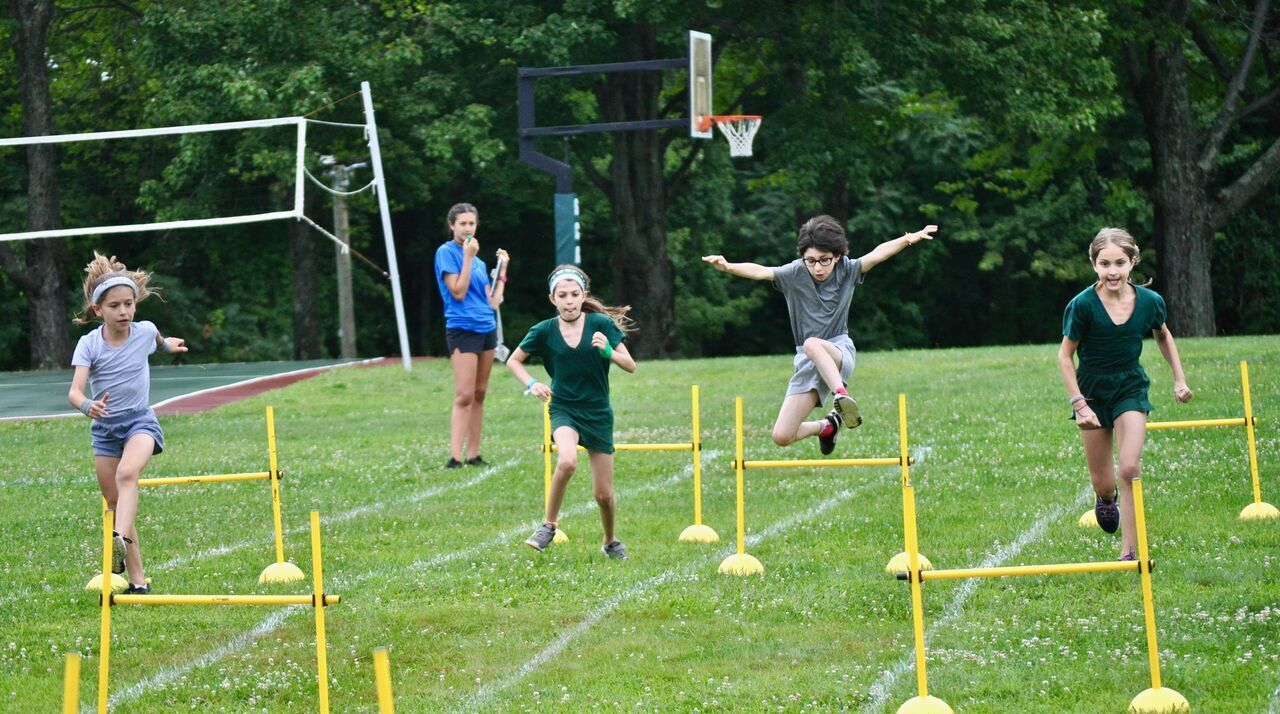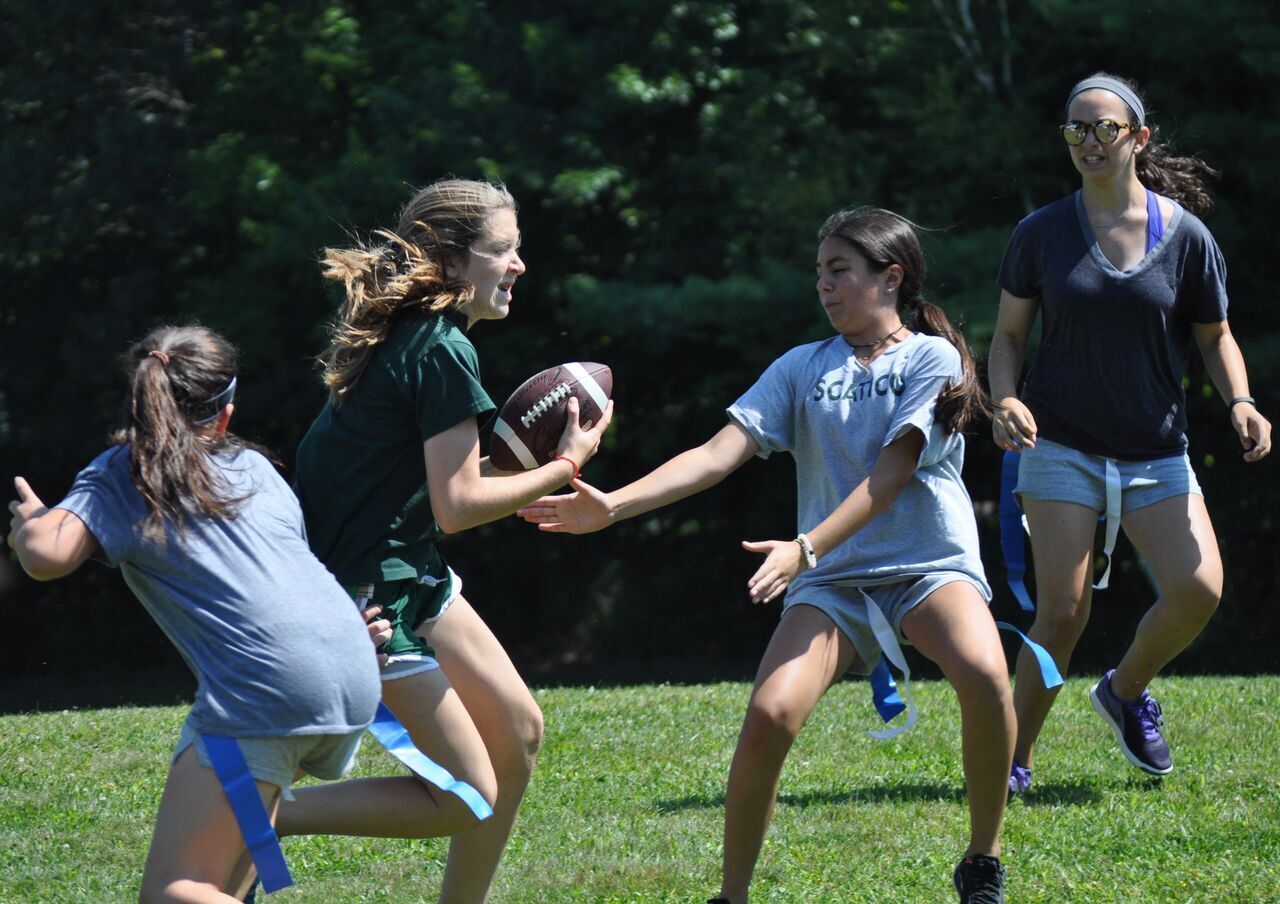 Girls track meet (Felicite clears the middle hurdle flanked by Eden and Olivia); Upper
Senior-Senior soccer game goes 10 rounds in a penalty shootout, including Owen's kick versus twin brother Nathan; Halle catches a pass and splits two defenders in flag football; Final night, arm in arm after swapping shirts, Cory speaks to the entire boys camp; and Kasey leads Grey Mount Olympus at the Sing.