Land of the Free, Camp of the Brave
It's been a great, rain-free few days in Scatico, with all of the activities and events revving up to high gear. Fourth of July always seems like a milestone of the summer, with the whole camp coming together for the first time with our co-ed barbeque, talent show and fireworks. As always the talent show was a highlight with acts as varied as gymnastics, karate, balloon blowing and juggling, piano, singing and a little rock n roll. After the show all of camp made its way to the golf course (red, white and blue popsicles in hand, of course) for a fantastic fireworks show.
The co-ed activities continued Monday night when the Soopers and Upper Seniors enjoyed a waterfront cookout, the Seniors and Subs (boys and girls) participated in a trivial night, and the Debs/ Inters and Centers/ Sub-Juniors went bowling!
Around camp
On boys' side College Bowl dominated for two days, with the boys split into four teams to compete in a variety of activities. Capture the flag is always a traditional favorite, and the boys' tried a new activity in the Pavilion that had mini-teams rotating between several timed stations to see who could hold the record (number of foul shots made in 2 minutes, number of times the team can rotate a hoola hoop around their bodies, etc.). College bowl concluded with a campfire, that was luckily outdoors this time around.
On girls' side the first camp sister event was held-- double trouble-- where older and younger camp sisters dress up in duo costumes (milk and cookies, ketchup and mustard, etc.) and perform a skit. Also, ceramics has embarked on a girls' campus wide project: the creation of our own Alma Mater totem pole. Each division is in charge of making an artistic, clay representation of a few lines of the Alma Mater (for those not in the know, the girls' Alma Mater is sung every night and lyrics and audio can be found here), which will all be assembled in a large totem pole to decorate girls' back campus.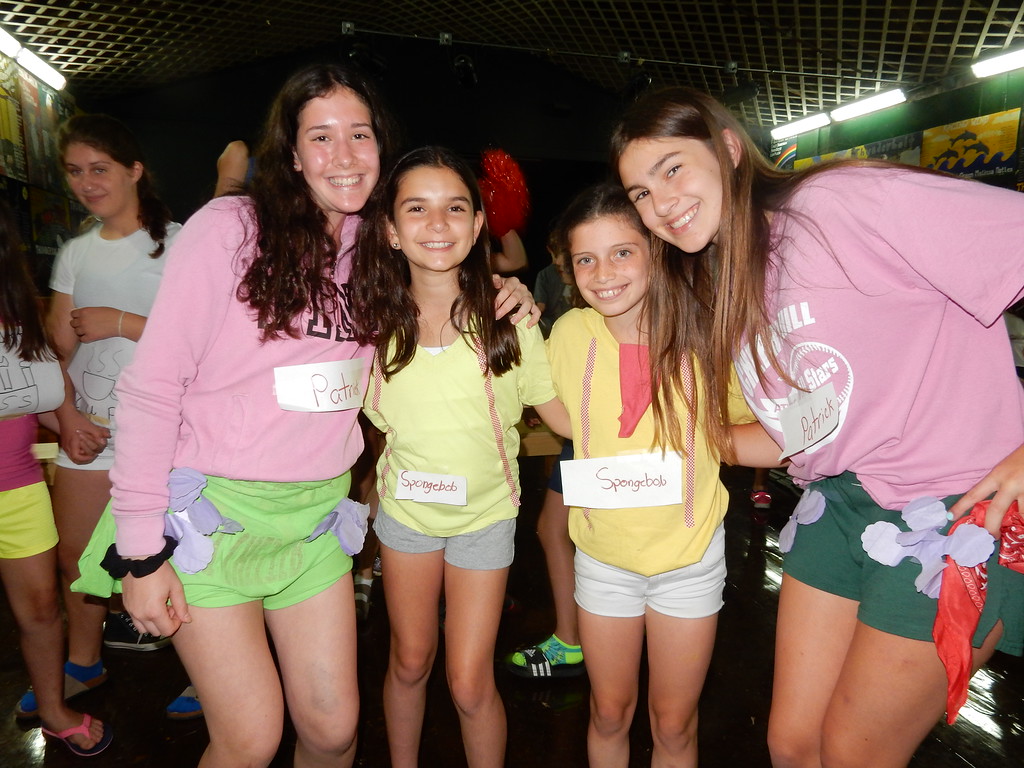 Camp also had several tournaments these past days, with two girls soccer teams and a boys basketball team going out, plus, Scatico hosted it's first tennis tournaments for boys and girls in 7th grade and under!
Divisional Snapshots
Boys Side
Sophomores-Had their first overnight, making s'mores and fire cakes (pancakes made over a fire) after hiking along Sunset Trail (a Scatico-made path in the woods behind the boys' ball fields.)
Sub Juniors- Threw a swamp party! All the Sub Juniors got into the crib (shallow part of the waterfront) threw in some canned sodas to float around and drink, and enjoyed some good music.
Juniors- Enjoyed a spirited game of Slamma Jamma, where the boys deck themselves out in basketball jerseys and lower the hoops so that everyone can dunk. They are also making mushroom houses in ceramics!
Inters-Organized a water fountain safari, sporting their bucket hats, as they tested every water fountain in camp (much debate over whether the office water cooler or Health Center water fountain is the best.)
Sub Seniors- Enjoyed an intense game of rugby (ended in 9-2) and made pita chips with avo-yogurt dip and OMG Brownies (Chef Ally's secret recipe) in cooking.
Seniors- Had a mystery hike (where counselors lead their campers throughout camp blindfolded) that ended in kayaking on the lake.
Upper Seniors- Have the distinction of making the first basket during a slap ball game in as long as people can remember, which means a pizza party.
Girls Side
Jinters- Had a thrilling 4th of July scavenger hunt where they had to piece together clues to find and figure out how to rescue Ken (head of girls' ceramics) who had been mysteriously locked inside his studio.
Inters- Had their hike to Catskill Preserve, where they were able to swim in a fresh (and cold) lake!
Centers- Had girls' sides first camp out, and started to learn their divisional sing folk song while sitting around the fire. The Cents also put the cherries they picked to good use, making cherry cheese cake in cooking.
Debs-Have been excelling in Scatico's newest competitive sport: Bocce! They also started to make trivets in wood shop, which they will then mosaic in arts n crafts.
Subs- Were the first girls division to hit wood shop, and made beautiful hooks and desk bookcases that they will paint in arts n crafts.
Seniors- Had their hike to Break Neck (always the most challenging and rewarding of the hikes) and threw a "wedding" ceremony (complete with rings and bridesmaids) on the top of the mountain for girls' head counselor Kerri and her husband Michael, who accompanied them on their hike and were celebrating their 12th anniversary!
Soopers- Headed to Wah-Nee for a soccer tournament, where Sara Feldman scored a "ridiculously good" (according to coach Nick Goodacre) goal (it was also the team's only goal) to much celebration.
Creations from our cooking center! Left: Chef Ally with patriotic cupcakes. Right: Cheese straws.