Going out with a bang!
The week leading into Color War is always a little packed program-wise, as groups sense the approaching end of summer and want to make sure to squeeze in everything possible.
There was the Divisional Sing (Juniors and Upper Seniors winning on boys side, Inters and Debs on girls), the Film Festival, and the Carnival (alien-themed and involving golf carts turned into space ships that crash-land on Mars--the batting cage on girls side just a little retrofitted). There was an Art Show and an Open Mic Night. There were Divisional Activities that included waterfront cookouts, Ropeburns, Murder Mysteries, and Iron Man Competitions.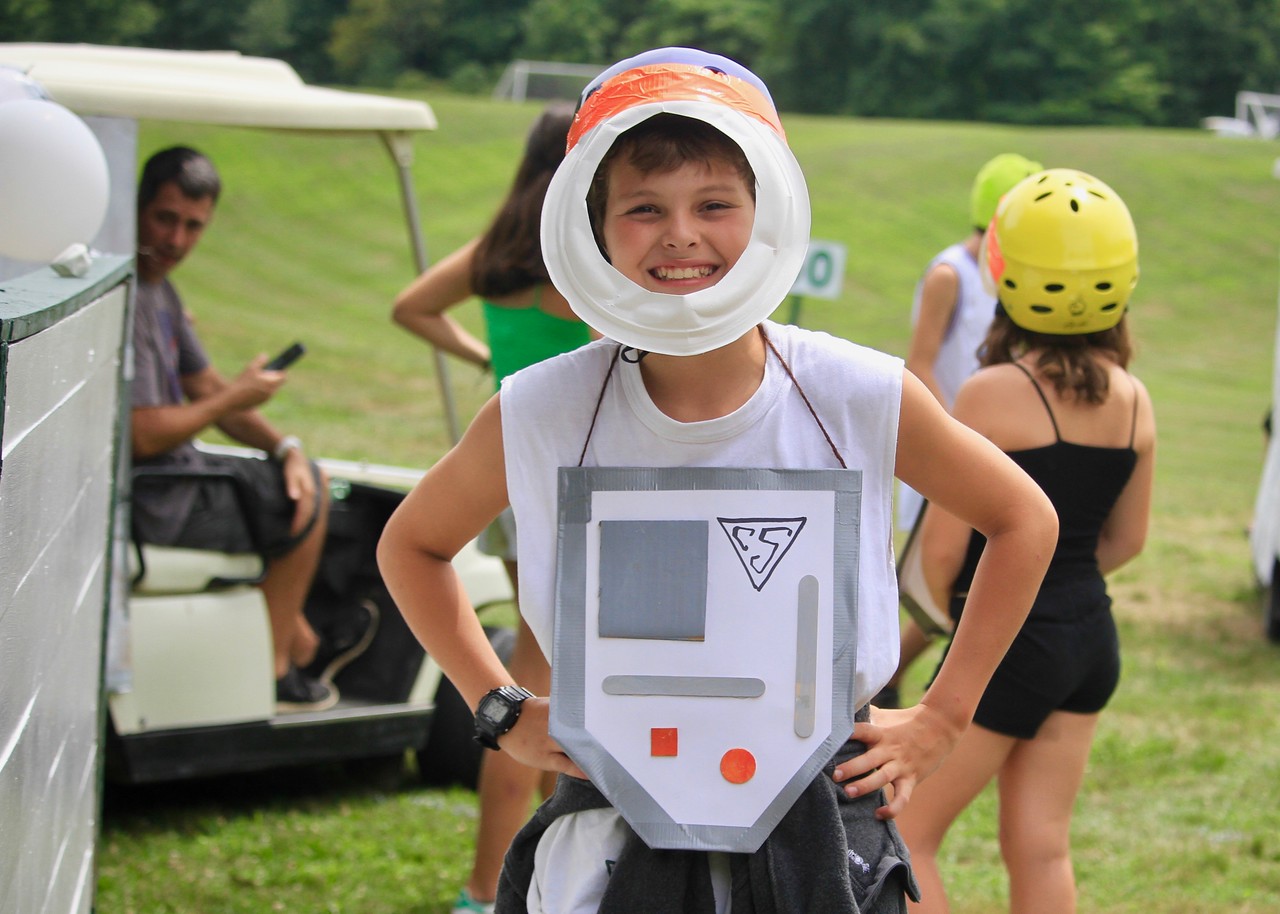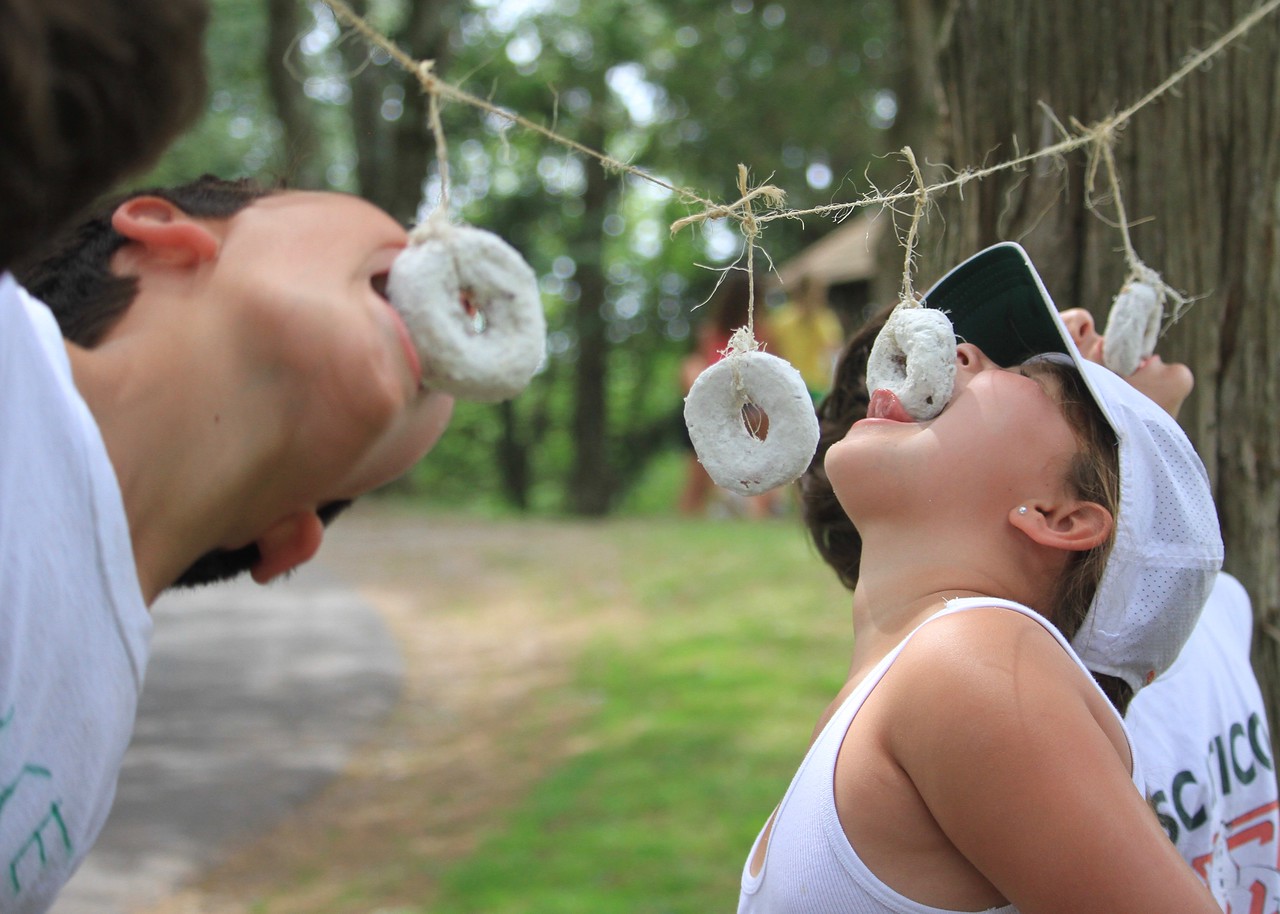 There were divisional trips to the Mohunk Mountain House, Howe Caverns, Zoom Flume, Rafting (a new addition this year, after our normal Sub girls caving guide was unavailable) and the Baseball and Basketball Halls of Fame (the Inter boys even met former Knick Charles Oakley). There was a spontaneous full-camp mudslide (somehow there is always one of these each year) and multiple sightings of rainbows and our resident bald eagle. There were championships awarded in Basketball, Baseball, Soccer Leagues, and boys and girls T-Leagues, and we are now down to at least the semi-finals in full-camp tennis, chess, and 42(a basketball shooting game) tournaments.
Boys head counselor Cory Schwartz organized two rainy-day movies in the social hall, featuring favorites from his youth—"Goonies" and "Back to the Future". There was a skills morning on the lower hill (tennis, basketball, and softball) and a first issue of "The Bugle Digest" (boys side newspaper). All of the above occurred during the week from Friday, July 27, to Friday, August 3. Whew!
1, 2, 3, 4... We Have Color War!
GIRLS SIDE
On Monday July 30, girls side thought they were gathering for just a regular movie night... but little did they know it was about to be COLOR WAR! Media counselor Gaston created one epic video sequence (involving the three Chief Judges as Charlie's Angles... full video available on our Facebook page) that ultimately revealed Color War was about to begin! Girls side erupted into cheers before reciting the Color War pledge and heading up to the tennis courts for dodgeball and team color reveals.
In girls Color War each team picks a theme and this year the Soopers opted for Grey Circus and Green Monsters Inc.! The theme plays the largest role during Color War sing, which is the competition that officially kicks off Color War (and just happened Sunday night!). The Soopers and Seniors have a week to work together to make incredible backdrops, and write and teach their teams five songs: Entrance, March, Cheer, Folk Song and Alma Mater. All week green and grey rehearse and prepare. One of the most remarkable elements of sing, is how each division's efforts come together to create something spectacular. Rest Hours and Free Plays quickly become dedicated to reviewing song lyrics and practicing cheers "claps" in the bunk. Jinters take turns "leading" their friends, after observing how Soopers do it during team meetings. Subs create each team's emblem-- a felt patch worn pinned on every campers' T-Shirt throughout the duration of Color War. Seniors step up for their first major leadership opportunity: writing and leading the Color War cheer. And Soopers bond in this one-of-a-kind way that only the intensity and joy of Color War can create. In writing their team Alma Maters, they are able to reflect on their camper careers, and express all that Scatico has meant to them over the years.
On Sunday night each team's hard work showed off as Green Monsters Inc. and Grey Circus brought the playhouse down! The Alma Maters were particular highlights, with Green's going to "Butterfly Fly Away" by Hannah Montana, and Grey's "All of Me" by John Legend. In the end, Green won the sing (their rendition of "Let it Be" by The Beatles for a Folk Song was especially beautiful), but the next few days are sure to bring more heated competition!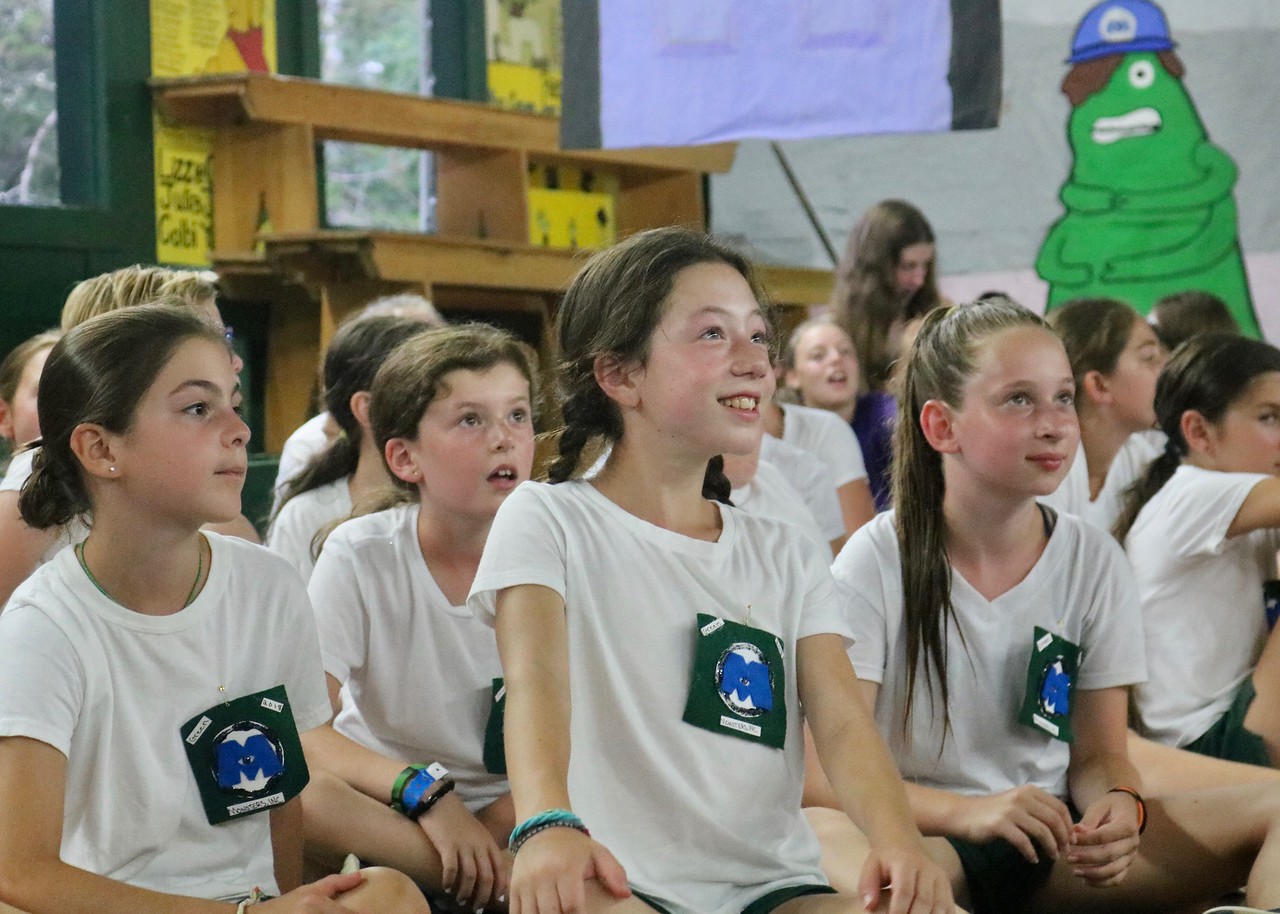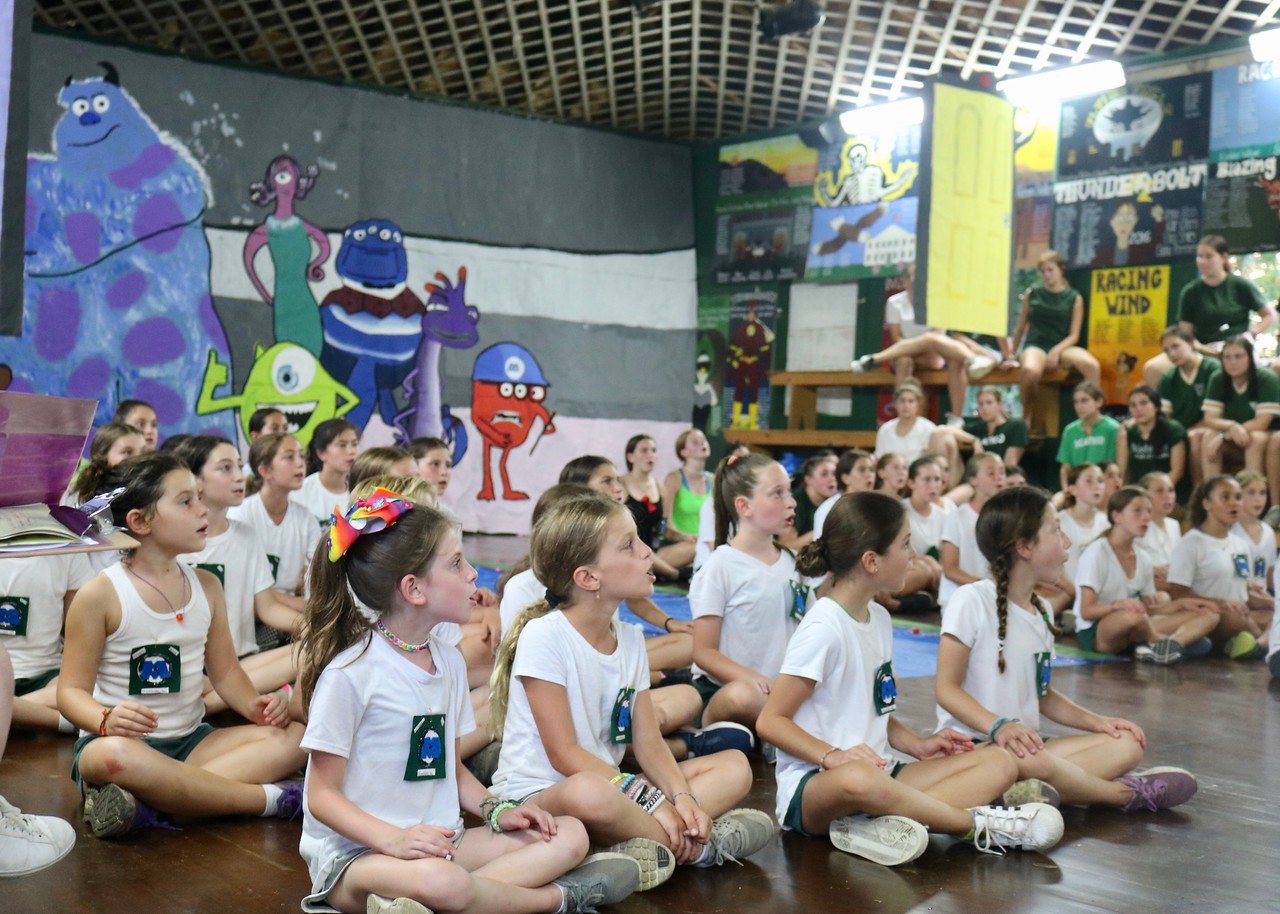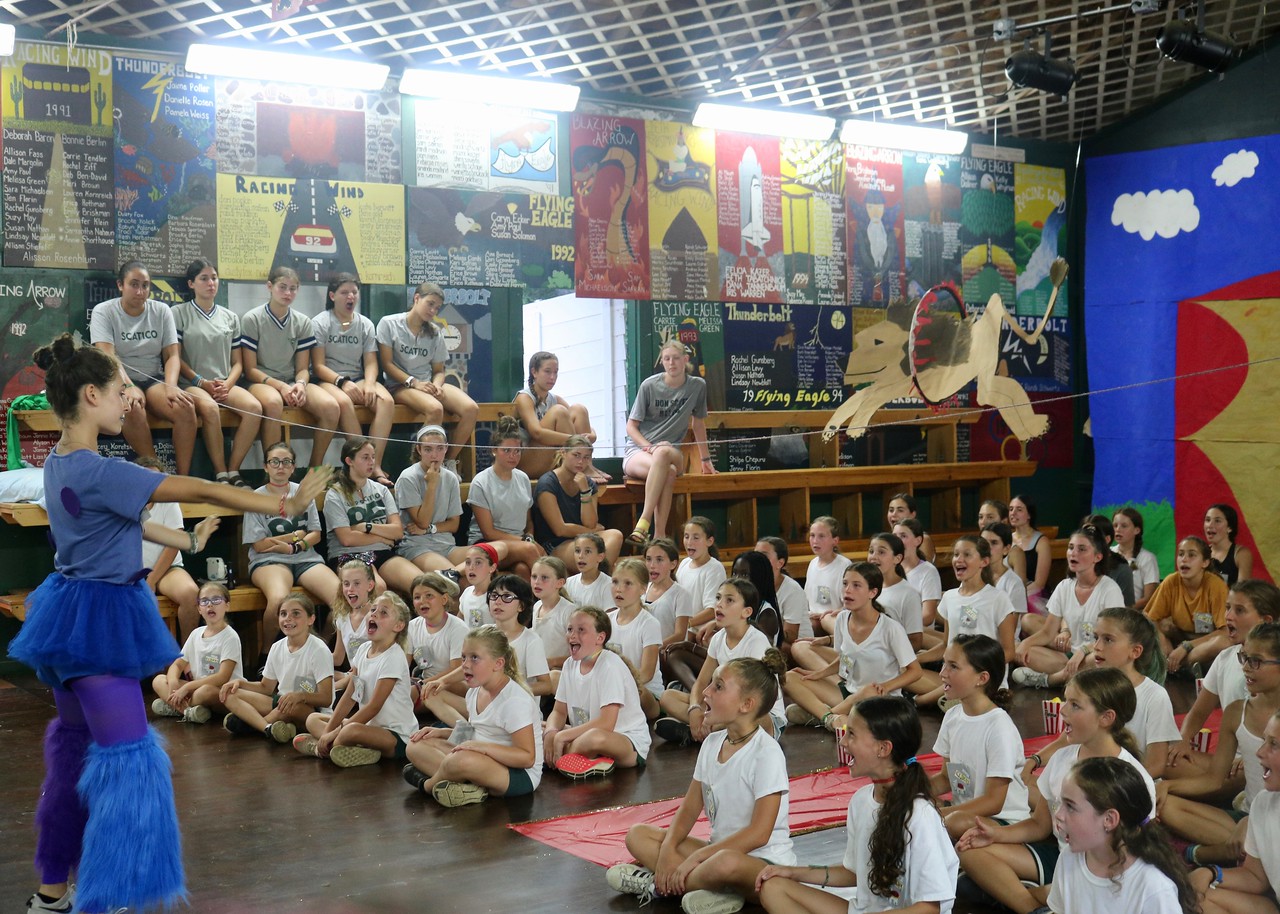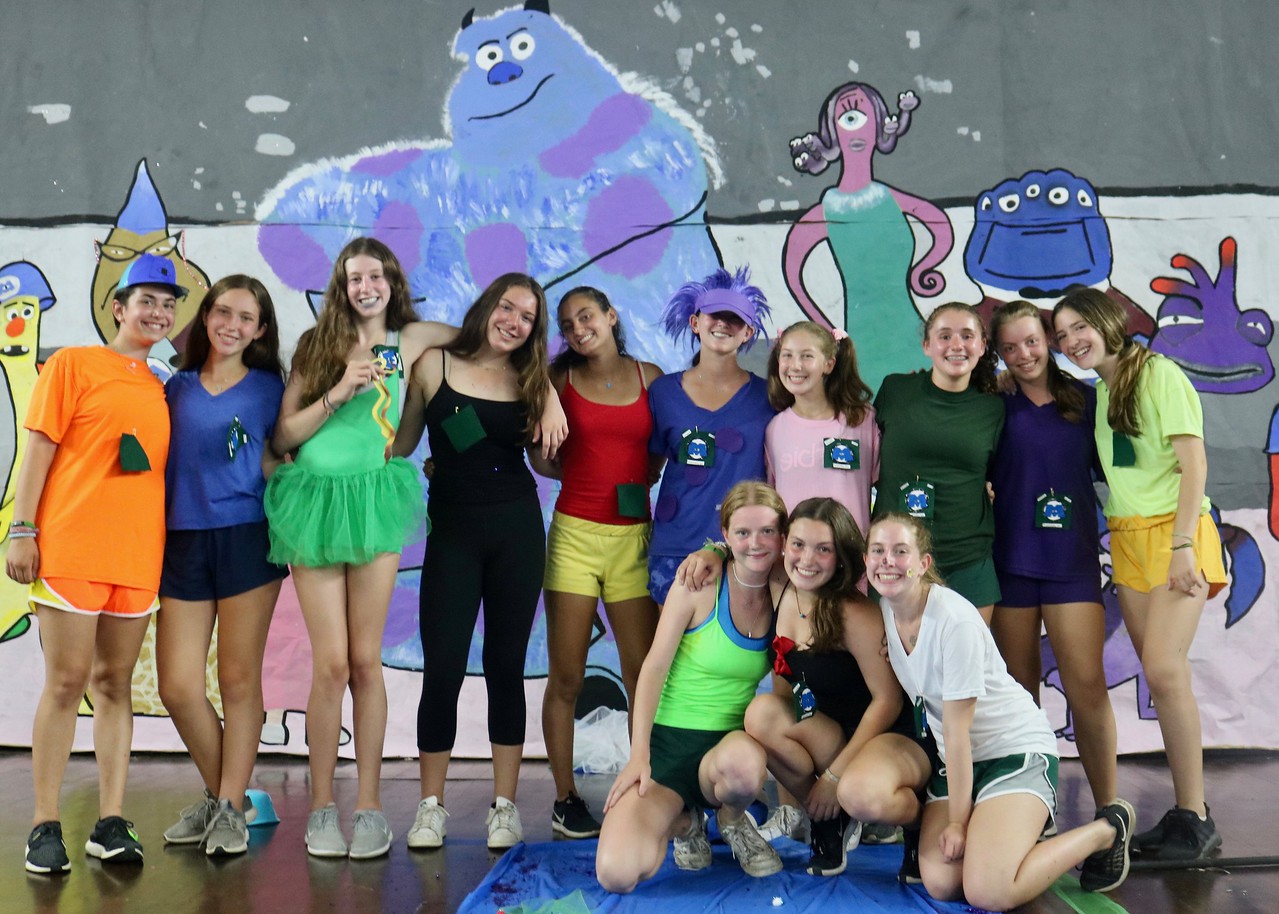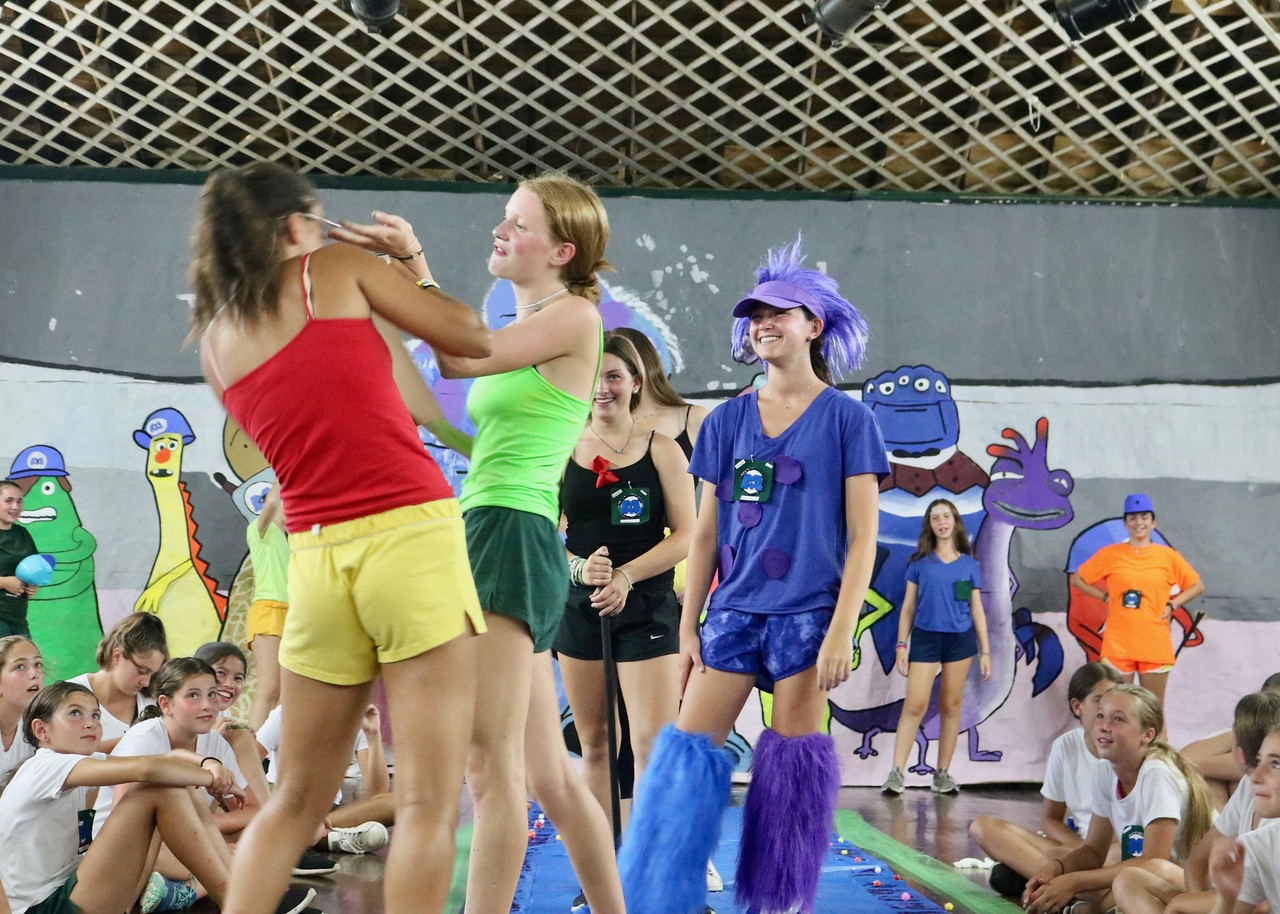 For the boys, the Color War broke came on Saturday night, August 4.
Just one day in to the competition there have already been a handful of moments that will make their way into Scatico lore for generations to come…. The full-camp Apache Relay race starts at the front gate, makes its way all the way to the boys A Court, and ends at the waterfront). In the final leg of the 50-plus-event relay race, two graduating Upper Seniors represent each team in a canoe that they hand paddle across a section of the lake to the boys beach and then sprint to "kiss" the flagpole. The lead see-sawed back and forth throughout the 30-minute-long race and the teams reached the canoes within seconds of each other, the Green team ultimately pulling out a come-from-behind victory.
One of the things we love is how campers re-strategize decades-old sections of the race. For example, Sub Senior Jacob Schiff calculated it was faster to run from the 250-yard marker to the Pagoda (a sprint of about 350 yards), by racing not in a straight line (on uneven ground) but by first running uphill to the ridge of the driving range and then across the top of the golf course hill before cutting over. This will be the new standard as he saved about 20 seconds.
Other first day highlights included an Upper Hill Mass Softball game that ended in a tie and was won in the "Fungo" overtime (three representatives from each time, furthest hit wins) and an Upper Senior-Senior soccer game that went to the 5th round of a shootout. Green was leading 2-0 with less than 10 minutes to play, but Gray tied the score on a header with 2 minutes remaining. Kornel Nemeth, our one Hungarian camper, had the winning goal. Kornel, in his second summer as a camper, lives in Budapest. His dad was a dishwasher at Scatico for two summers in the early 1990s! Both finishes came with the entire boys camp watching.
Certainly, more to soon follow over the next three days in Color War….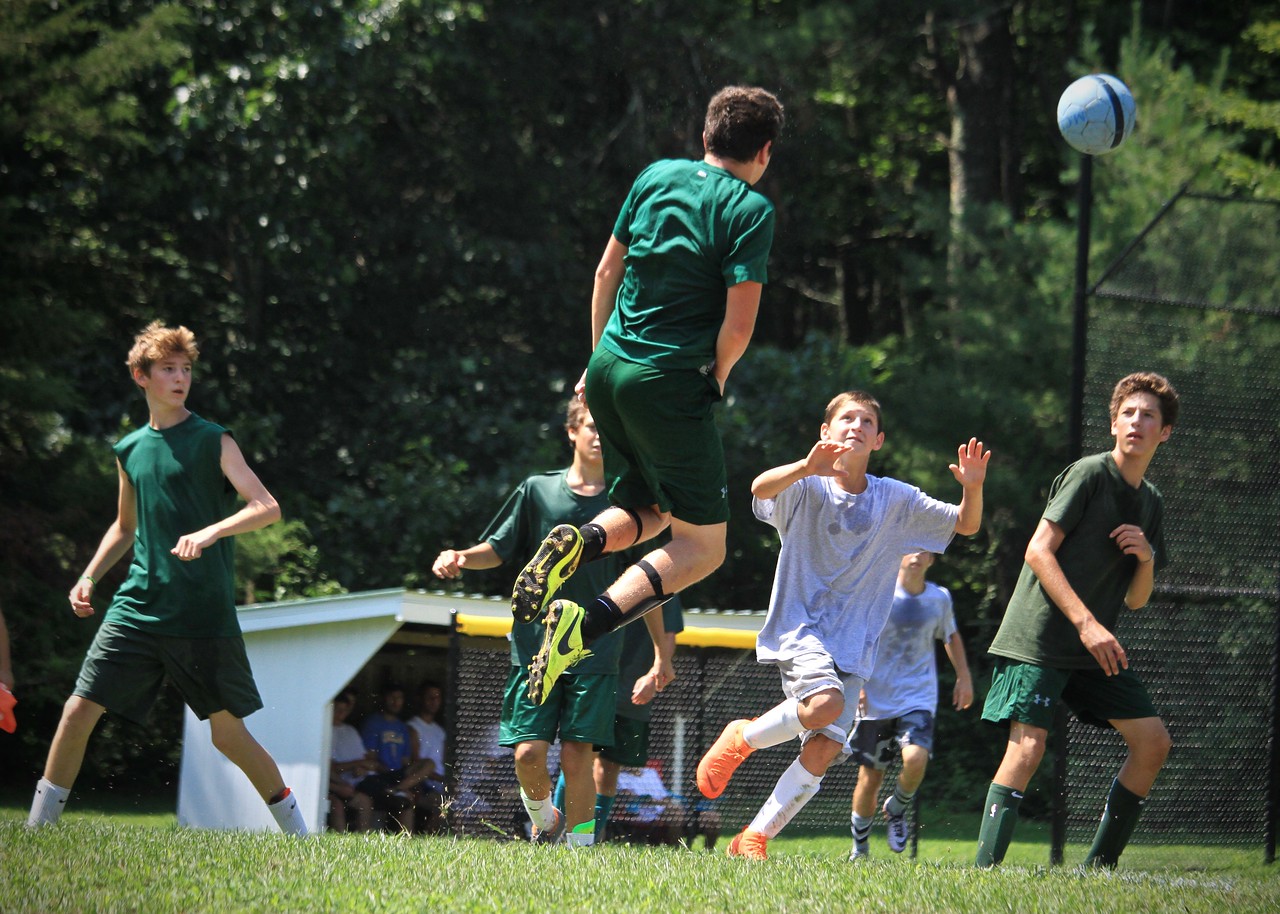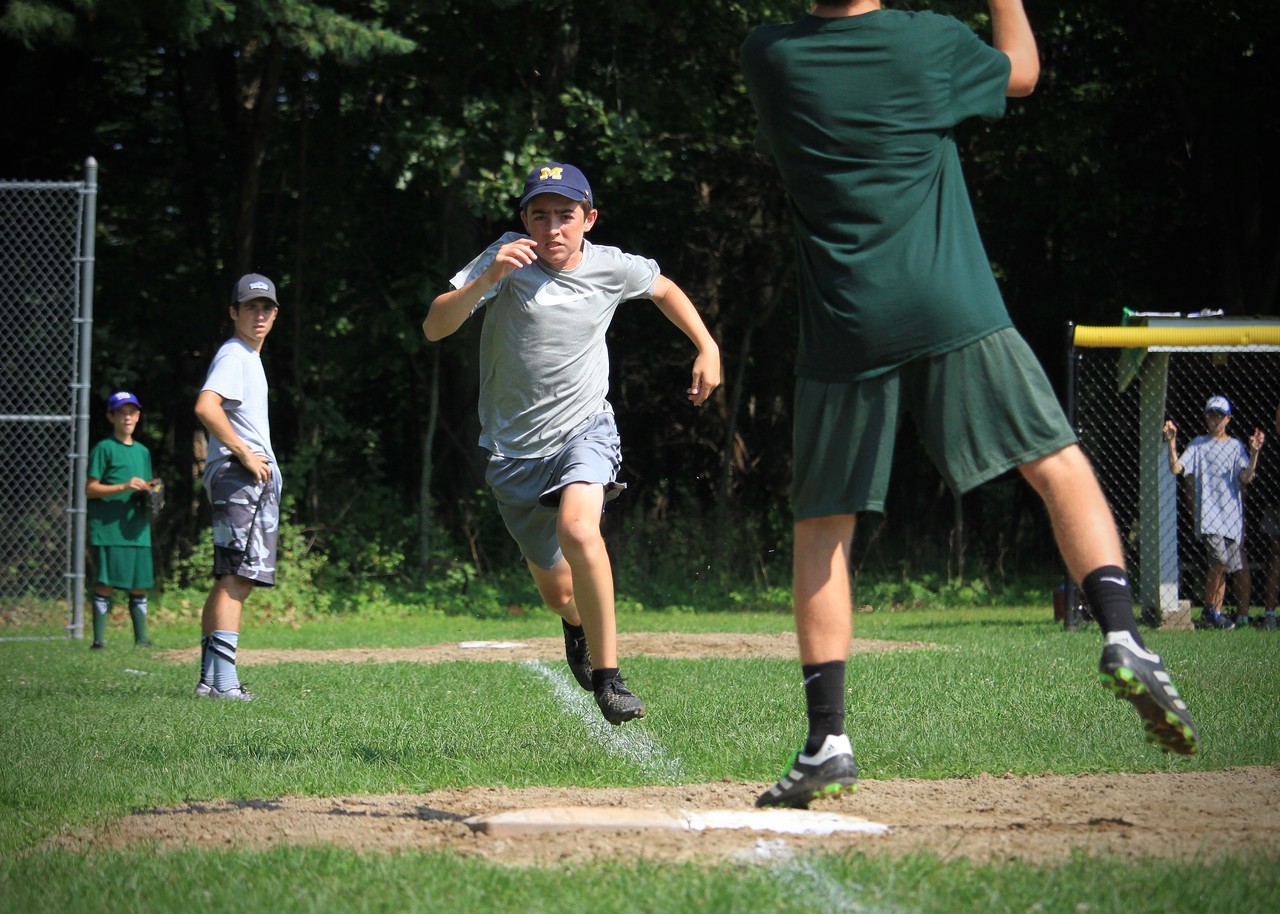 Brothers & Sister First, Green & Grey Second
Even with all the sense of competition and daily adventure, what resonates most during the final two weeks of camp is the brotherhood and sisterhood that continues to grow within each division with each passing day. Especially at a 7-week camp like Scatico at which no campers join a group mid-season, the journey from Opening Day through the many highs (and even a few challenges) creates opportunities for bonding and community-building which will provide foundations for each camper to build on during the school years and summers to come. With closing campfires, banquets, candles across the lake, slideshows, and more of those final camp traditions still on the horizon, there will be plenty of opportunities to reflect on the magic of summer 2018.