95th Anniversary Celebration
Sun shining? Check. Faces smiling? Check. Memories flowing? Check. Everyone looking exactly the same? Check. What could be better than a pristine day in Elizaville spent connecting with camp friends new and old.
Thanks to the nearly 500 alumni and current families that made the journey to camp, the 95th Anniversary Celebration was all about just what it should have been all about: the people. As fun as it might have been to swim in the lake, spot your name on a Tribes plaque in the social hall, or take a shot on the A Court (and certainly any of those actions can magically transport you back in time), it's the relationships with bunkmates and counselors that form the foundation of any great camp experience. And while it's certainly wonderful to see friends you've stayed in touch with since your Scatico days, the true joy comes when recognizing someone from your formative years that you haven't seen in years. Talk about instant time travel.
Ninety-five is a nice, big number (especially when talking years for a summer camp and single family ownership). The loyalty and support of so many generations of campers and counselors is not something we take for granted. The next major in-season celebration will come in 2020 to celebrate our 100th (now that's a really big number). By then, we will have welcomed yet another generation of campers and counselors to create their own lifelong friendships and memories.
To see more photos of the 95th Anniversary Celebration, click here. If you have photos to add, send them to info@scatico.com.
We Will Miss You
Susan Nan Fichtelberg died in June. She attended camp from 1949 to 1961 with her brother Lenny. Her nephews Craig and Eric were campers and counselors in the 1970s-90s. Susan ran a Florida-based insurance agency specializing in Long Term Care Solutions.
Arnie Horowitz a Scatico camper from 1947 to 1954 died on May 10. His children Kenny, Caryn, and Laura were campers, as well as his brother Gerry, nieces Kara and Jaime, and grand-nephews Brett and Jesse. His brother Gerry wrote: "Arnie was an advocate for Scatico up till the day he died…. He still maintained friendships with people he went to camp with [more than 60 years ago]."
Tom Dolan, a counselor for several summers in the 1960s, died on May 18. As a Freshman division leader, Tom helped launch many Scatico camper careers.
David Lawrence (ne Lipsky) died on November 1. The youngest brother of Dan, Carl, and Seth, he attended Scatico in the 1930s, both at the Wingdale location and (starting in 1934) in Elizaville. David's father Harold and Jack Holman were teachers together in an elementary school on the Lower East Side in the early 1900s, which is how the family found its way to Scatico.
Daniel Ferro (ne Eisen) died on November 18. He attended Scatico in the 1930s and was a member of the Juilliard School's voice faculty from 1972-2006. From his New York Times obituary: "In a career that stretched across five continents and included decorations by three governments for his extraordinary contributions to the arts, Daniel Ferro has taught some of opera's most legendary voices."
planting trees at scatico
When Richie Hanft (1950s-60s) died last February 6, his longtime Scatico friend Hank Alpert reached out to camp about a suitable tribute to remember the longtime camper and counselor (and legendary Color War judge). Hank was so touched by the idea of planting a tree at camp in Richie's memory that this fall he donated 11 trees to camp to honor Riche and 10 additional camp friends who have passed away. We have now added lines of evergreens in two locations at camp: by the large tree opposite the Admin and along the road by the boys flagpole. An additional tree was planted by the bench in front of bunk 11-12, to replace the large maple that was such a fixture on boys campus and had to be taken down several years ago. Thank you, Hank.
calling all photos...
We are looking for classic (and even not-so-classic) photos to print in future issues of the Alumni Newsletter. Send by e-mail as an attachment to info@scatico.com or by mail to: Camp Scatico, PO Box 6, Elizaville, NY 12523. We will return the originals, if requested.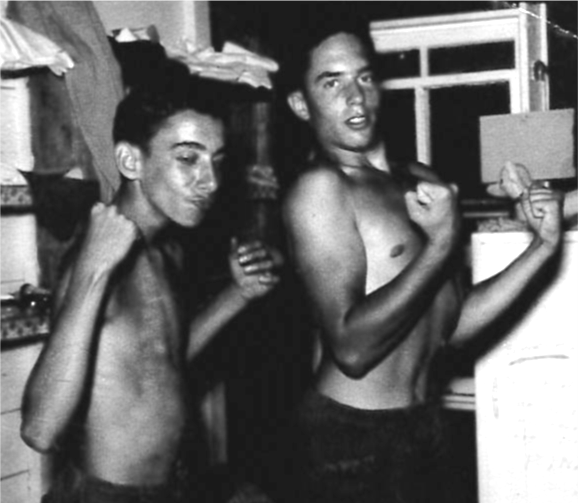 WWW.SCATICO.COM
Lots to see and do at our site which was revamped last winter. In the Alumni Section, scan back issues of the Alumni Newsletter, see photos from this summer's 95th Anniversary celebration (absolutely no one has aged), and purchase Scatico-gear/wear. In the Media Section, view aerial video of Fall foliage in Elizaville as well as our 2015 Summer Yearbook.
staying in touch
Stay connected with fellow Scaticonians by e-mailing news, photos, and recollections to info@scatico.com. If you prefer the regular mail and printed pictures, that works just as well. We will even return the photographs after reproducing them for the Alumni Newsletter. We always love to hear about Random Scatico Sightings (RSSes)….
Peter and Andrea Katz both worked at Scatico, Peter as a pioneering counselor in the 1980s and Andrea helping to run our summer office for 9 summers (starting in 2005, when their children Rachel and Sam began their camper careers). They were involved in two 2 RSSes. First, they met Matty Carroll (2008-14) and Ian Meltzer (1990s-2010s) in Las Vegas in July. Matty and Ian where on a 4,000-mile cross-country road trip that included planned meetings Mike Green (1990s-2000s) in South Carolina and retired caretakers Bren Karcich and Ian Slater (1990s-2010s) in Alabama. Then, getting set to bring their daughter Rachel to college orientation in August, Peter and Andrea ran into Jenni Levine (1990s-2010s) at an NYC airport. Jenni, who lives in Los Angeles and is an agent at William Morris Endeavor, was "fresh" off a Red Eye flight….
Out to dinner in Boca Raton, FL, Bruce Holman (1944-56) and Peggy Kalish Goldberg (1960s) made a Scatico connection….
When a group of camp friends (Andy Levine, Doug Herzog, Andy Paymer, Jeff Abrams, and Jim Rosenzweig— 1960s-80s) got together for a concert by The J. Geils Band at the Beacon Theatre in New York City, they were thrilled to spot Scatico contemporary Bob Lapides….
Other alumni checking in…. Jason Keller (1994-98) couldn't make Scatico's 95th birthday celebration at camp in August because he was competing in the North American Scrabble Championship. He is the top-ranked player in New Jersey (56th in the United States) as determined by the North American Scrabble Players Association. In 2016, he will travel to Perth, Australia, to represent the United States at the English-language Scrabble Players Association Championship….
Lucas Held (1990s) appears in a Hyundai television commercial that airs regularly during NFL football games. He's the Houston Texans' fan screaming in the car by himself in celebration after a fictional last-second win….
Leah Recht (1997-2005) is in the second year of a Masters program at Drexel University for certification as an Art Therapist…. Larry Fleder (1962-80) and Matt Weinstein (1961-65) got together for a Scatico breakfast in Virginia Beach this summer. They did not realize they were neighbors until reading an email string set up by alumni after the death of longtime Scaticonian Richie Hanft last February. Larry writes that he also sails with fellow alumnus (and Virginia Beach resident) Jack Siegel (1968- 81)….
When Sue Greenbaum Gross (1971-80) opened a new showroom for her family business Greenbaum Interiors in Ridgewood, NJ, she was joined at the launch celebration by Richard Croland (1966-76) and Scott Lief (1973-80)….
And speaking of launch parties, as mentioned in a previous Alumni Newsletter, former bunkmates Brian Helfman (1997- 2009) and Max Bosch (2003-2009) have co-founded TAABS (an app "making nightlife easier to find"). At the event, they were joined by camp friends Matt Kochen, Ray Serina, Ben Hayon, and Michael Lew…
Judi Fleischner Ecochard (1960s-70s) finished in second place for her age bracket (55 to 59) in the Toughman Triathlon (1.2 mile swim, 56 mile bike, and 13.1) this September in Croton-on-Hudson, NY. She was the oldest female competitor….
Mountain Jam, an annual 4-day spring music festival on Hunter Mountain (less than one hour from Scatico), has grown into an annual mini-camp reunion that this June included (1970s-90s vintage) Judd Henry, Randy Goldstein, Mike Samuels, Ally Lipton. Andy Bernard, Jeff Bernfeld, Julie Feinsmith, Jordan Weiner, and brothers David and Sean Locke. Somehow, no full group photo exists, but Judd did send in a picture of himself with Mike Samuels….
Juan Carlos Saavedra, who worked as a member of our support staff in 2003 and 2004, emailed from Colombia, where he works as a professional referee for FIVB (Federation International of Beach Volleyball). This past summer, he officiated during FIVB's world tour….
Howard Luks (1980s-90s) now works for Oracle and is temporarily living in London. When he had to travel to San Francisco on business, he made sure to take a detour slightly north to visit Scatico contemporary Brian Berusch, who lives in Petaluma, CA. Brian is a free-lance travel writer, the editor of Hawaii Polo, and a principal in Story House Hawaii (a full-scale production company that provides marketing and branding strategies)….
Singer/songwriter Ellen Woloshin this fall headlined shows at libraries in Southampton, NY, and Montvale, NJ. For upcoming dates or to download music visit ellenwoloshin.com….
Congratulations to Doug Herzog (1960s-70s) who was recently honored alongside Jasmine Cephas Jones (star of the Broadway musical Hamilton) by the Hamilton Partnership for Paterson. Fellow Paterson natives (and camp friends) Andrew Levine and Jeff Abrams joined Doug at the October event….
Bob Singer (1961-65) last spent a summer as a counselor at Scatico 50 years ago, but is still involved in camping, just having completed his 38th year working for Crestwood Country Day School's summer program. Currently, Bob writes the activity and rainy day program during the winter and spring and does other scheduling during the summer. He retired from teaching in 2012….
Dori Popkin Chait (1980s-2000s) has joined The Camp Specialists as a camp consultant working with families to place their children in summer programs (like Scatico). For those who remember Dori as a camper, counselor, and division leader, there is little doubt that this a vocation for which she was born. Dori now lives in Baltimore and will become a first-time Scatico mom in 2016 as her son Zachary joins us for the one-week Scatico-in-Training program….
Former camper, counselor, and camp doctor Bob Seebacher (1962-2003) brought us up to date on the adventures of his three children (campers and counselors in the 1990s-200s) : Paul (1996- 2008) is an engineer at SpaceX and living in Los Angeles; Lauren is a free-lance production artist and graphic designer (Lauren Seebacher Design Studio) and lives in Ossining, NY; and Rachel works as an attorney for the DEC and lives in Brooklyn ….
As a camper and counselor from 2001 to 2009, Sam Lisabeth (and brothers Zach, Harry, and Jake) provided a lot of musical entertainment at campfires, talent shows, and midsummer concerts. Sam now plays keyboards for Guerilla Toss, a group that is getting a lot of positive press ("Brooklyn's best new band") and gaining a loyal following with a sound that has been described as "dance punk" and "noise funk." You can download music and see upcoming tour dates at guerillatoss.com. Not to be outdone by his older brother, Jake Lisabeth (a senior at SUNY Purchase) is a lead singer for 99 Sublime, "a NY hip hop/soul collective" that has toured numerous college campuses throughout the summer and fall. Jake plans to return to Scatico this summer as the head of the Music Program (the third Lisabeth brother, following Harry and Sam) in this position….
Barry Pisetzner (1970s-2010s) was one of 12 featured artists with works displayed at a November art show in Margate, NJ. You can see his latest paintings at Pisetzner.com….
Glenn Parker (1950- 59) sent in a photo from a September lunch he had with Stu Schwartz (1954-59) and Alan Menachem (1953-62). Glenn writes: "I was Stu and Allen's counselor in 1959 and, among all their Scatico counselors, their 'third favorite.' Ok, 'maybe second.' I was, however, the tallest."
Thanks to all for staying in touch—please email news and photos for the Spring 2016 issue of the Alumni Newsletter to info@scatico.com.
congratulations
weddings
Louise Holman Roth (1947-54) and Mel Spaeth on July 30.
David Keller (1990s) and Lisa Resnick on October 31. David's dad Mal and brother Jason were Scatico campers. His uncle Larry Fabian (1956-65) and cousins Andrew and Daniel (1980s-90s) also attended.
Erik Zamkoff (1980s-90s) and Alison Dick on November 1. Erik's cousins Andrew and Sloan Zuckerman joined in the celebration.
Zach Miller and Lara Stahl—a Scatico marriage!—on June 22. Zach and Lara were campers and counselors in the 1980s-90s. Former bunkmates Harris Sarraf and Maggie Cohen were in the wedding parties and among many Scaticonians in attendance.
Michael Hanft (1980s-90s) and Kara Willenburg on August 28. Michael's dad Richie spent nearly 20 summers at Scatico in the 1950s-60s.
Becky Feuer (1980s) and Gary Slatko on September 26. More than 20 Scaticonians were in attendance, covering the 1980s and present generation. Becky's dad Michael was a camp doctor when Becky and her sisters Jennifer and Liz were campers. Her son Bryce and daughter Hannah are currently at camp (counselor and 2016 Sooper respectively).
the next generation
Grant Michael on October 13 to Ben and Hope Mandel Amsterdam, who each spent ten-plus summers at Scatico as campers, counselors, and division leaders (1990s- 2000s). Aunt Jenna Mandel and Uncle Joey Amsterdam were also Scatico campers and staff members.
Ethan Ross on July 5 to Dan and Melissa Green Pearson. Melissa and her brother Brad were campers and counselors in the 1980s-90s.
Isla on August 5 to Jeff and Rebecca Fleischner Tatom (1990s-2000s). Space dictates that we don't descend too deeply or broadly into the roots of Rebecca's Scatico family tree, but dad Ben and siblings Adam, Greta, and Jesse were all longtime campers and counselors.
Michael Andrew on August 17 to Leslie and David Sarraf (1980s-90s). David's brother Harris was also a Scatico camper, counselor, and division leader.
Declan Bryce on September 14 to Lauren and Ashley Green Sheen. Ashley was a camper and counselor in the 1990s-2000s.
Lucy Hazel on December 2 to Lea and Matt Bush. Matt was a camper, counselor, and division leader in the 1990s-2000s along with siblings Brett and Alyssa. Congratulations as well to the grandparents Mike Bush and Nedra Rosen—both longtime camp doctors in the 1990s-2000s). Mike was also a camper and counselor in the 1960s-70s.
Matt Weinstein (1961-65) reports that he became a proud grandparent for the fifth time as his daughter Ileana gave birth on November 11 to Sebastian Elia Ramirez.
giving back-- exporting the scatico experience
Last summer, 23 Scatico CITs traveled to the Dominican Republic to run a 1-week day camp for The DREAM Project (www.dominicandream.org) and bring a first camp experience to more than 70 8– to 12-year-olds. Activities included sports, art projects, and many traditional camp games and events (including a 1-day Color War and a lot of singing). Feedback from the trip was so positive that plans are underway to recreate the memories and magic with the 2016 CITS. In addition, Scatico will present a session about the program to the camping industry at large at the annual Tri-State Camp Conference this March in Atlantic City, NJ. You can still read the blog from the 2015 service trip here.
scatico 2015: same as it ever was (almost)
We always like to include a few photos from the summer just past in the Fall Alumni Newsletter. Left—A jump shot on the A Court during the Nat Holman Basketball Tournament as the fans look on. Right—the Girls Color War Sing.
days of yore
Sights no longer seen at camp (our insurance company wouldn't complain):
Merry-Go-Round (better known as the Vomit Wheel) on girls back campus.
Wood backboards on the A Court (and no padding for the support poles).
VINTAGE SCATICO
Above: 1983 Frosh. In the photo of the Frosh, that's Marc Stiefel seated, far right. Marc is currently part of the summer doctor rotation.
Below: 1984 Jinters. That's Ally Lipton, third from the right. Ally runs Scatico's cooking program (in the Cooking Centre built in 2014 on the site of the old bake shop).