95 Years and Counting...
Every 5th summer, to celebrate a big, round anniver- sary number, Scatico hosts an in-season reunion at camp. Just think, the next one after this will be 100!
Where: Camp Scatico

When: August 2, noon to 4PM

Details: Lunch will be served and the waterfront will be open for an afternoon General Swim
More than 500 alumni, current camp parents, and family made the pilgrimage to Elizaville for the 90th anniversary in 2010, and we look forward to an even greater turnout to celebrate our 95th.
Please RSVP at eventbrite.com. There is also a Facebook page on which to post vintage photos: Camp Scatico's 95th Birthday Party.
FIVE GREAT Reasons to visit camp for the 95th anniversary celebration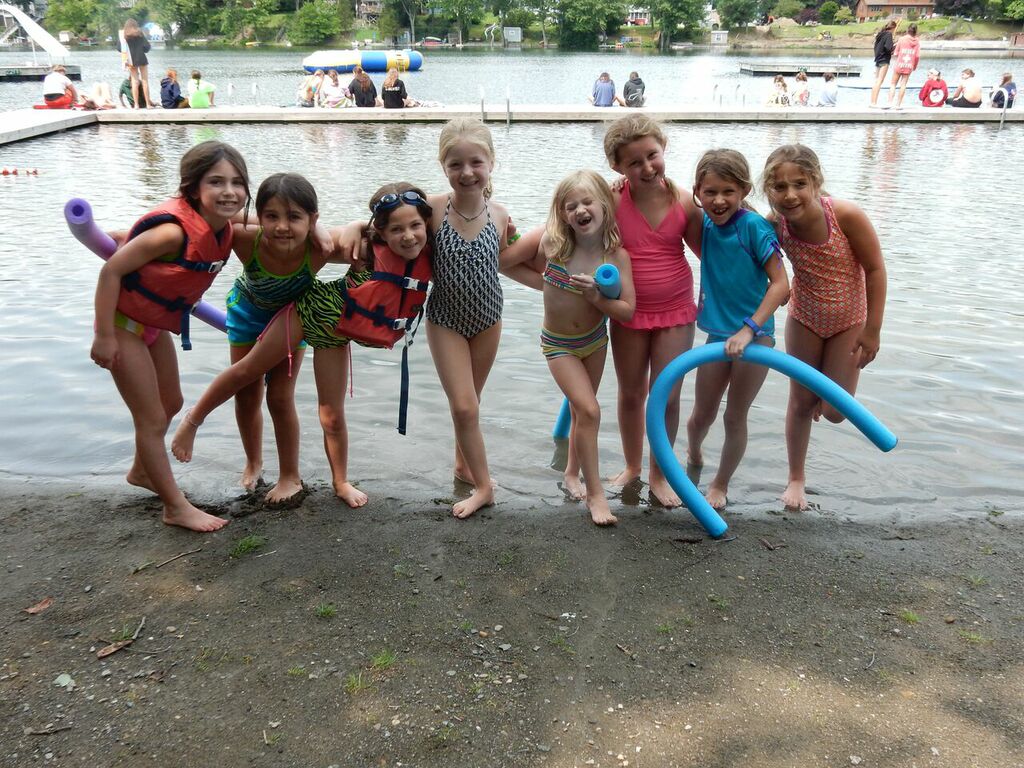 First to 95...
Below: Alex Holman (1929-40) beat Scatico to a 95th birthday celebration. Fellow camp alumni there for the fall party in Palm Desert, CA, were Marge Holman Sunshine, Leslie Fadem Childs, Pam Fadem, and Robert Holman.
Calling All Photos: We are looking for classic (and even not-so-classic) photos to print in future issues of the Alumni Newsletter. Send by e-mail as an attachment to info@scatico.com or by mail to: Camp Scatico, PO Box 6, Elizaville, NY 12523. We will return the originals, if requested.
Bert Holman (1960s) sent in the two photos above, found in his dad Merton's archives. To the left—the Camp Mother with the Pixies (pre-1934 at the location in Wingdale, NY); to the right (1936 in Elizaville) —Uncle Nat in the driver's seat, Merton sits on the running board far right.
The two 1987 team photos below are courtesy of the Shira Savada archives. Shira (1991-2015) returns to camp this year to once again help head the 1-week Scatico-in-Training program.
Sharing Scatico With your children
Our annual roll call of alumni with children at camp as campers or counselors includes many new names for the 2015 season. If your next-generation son or daughter might be ready to share in the magic, let us know. We would love to schedule an in-season tour. Visit www.scatico.com for general information. This summer's alumni parents (more than 90 and in no particular order):
Sue Wolfin Rubin, Leslie Wayte Heineman, Joel Beck, Randy and Lynette Au, Rob Rubin, Mike and Elisa Segal Madorsky, Mark Olensky, Susan Greenbaum Gross, Larry Hamburg, Elyssa Berger Schecter, Fred and Anne Wang, Dick and Nancy Klyde Hecker, Brandt Josephson, Sharon Beck Kochen, Ben Goldner, Beth Gustave Bochner, Michael Smiley, Jeff Araten, Justin Lapatine, Roger Lowenthal, Kate Deutsch Eichel, Stefanie Birbrower Greer, Pam Blomberg Schwartz, Adam Holzer, Lara Holzer Miller, Greg Mazarin, Pavel and Maggie Parwanicka Mozga, Jessica Clark Newman, Barry and Melissa Rosenblum Pisetzner, Patti Klyde Press, Linda Lowenthal Tolstoi, Debb Falk Zerwitz, Michael Ditkoff, Todd Fass, Julie Strauss Greeley, Beth Yurdin Metzendorf, Gerald Stein, Andrew Zuckerman, David Rosh, Gregg Rosh, Pam Hougnou Nivasch, Laura Danford Mandel, Katie Mazarin Derasse, Becky Feuer Holden, Carolyn Mitchell Kane, Jessica Weiner Mester, Todd Sherman, Lisa Paymer Dodge, Jon Feldman, Julie Nahoun Hartstein, Ketti Krieger, Shana Madoff Swanson, Michael Lippman, Jill Herzog Phillips, Dan Rosen, Wendy Sheldon Brown, Rana Grossman Leibowitz, Eric Kleiner, Jon and Andrea Baron Cooper, Hillary Nahoun Krane, Samantha Nahoun Gornstein, Lara Horowitz Bockstein, Andrew Tannenbaum, Marc Stiefel, Jennifer Fleischner, Michael Vickers, Melissa Marques Goldberg, Alan Ranzer, Stacey Lipton Schumer, Kerri Berkman Winderman, Whitney Scott Jacobson, Mandi Zucker, Stephanie Deutsch Clendenin, Suzie Oshatz Perlman, David Rothenberg, Andrew Rubinson, Wendy Nedlin Schindler, Jamie Raphael, Mark Sanders, Stefanie Klein Bressman, and Robbie Sussman; plus first-time Scatico parents Lawrence Max, Tom Rubinson, Nancy Ginsberg, Shawn Chudnoff Goldberg, Meredith Lew Peirce, Arthur Roses, Scott Madison, Dusty Fox, Ken Vallario, and Corey Gluckstal.
home again...
Left photo: Dusty Fox (first row, far right) was the Nat Holman basketball team coach in 1996. She started her career as a camper in 1985 and was last at camp as a division leader in 2002. She returns this summer as an assistant head counselor, with her husband Ken Vallario (who will head girls ceramics—a position he held in 2001), and daughter Poppy, a first-year camper. Dusty and Ken first met while on staff together in 1999.
Right photo: Nancy Ginsberg (1970s-80s) starred on the Scatico stage with Tom Gladstone in a mid-1970s production of "The Fantasticks." She returns this year to head the girls water- front. During the "off-season" she is both a swim instructor and coach (previously ran a water- front at a camp in West Virginia) as well as a Cantor (first-rate Bar/Bat-Mitzvah lessons avail- able). Her sons Michael and David will be first-year campers.
Staying in touch
Keep connected with fellow Scaticonians by e- mailing news, photos, and recollections to info@scatico.com. If you prefer the regular mail and printed pictures, that works just as well. We will even return the photographs after reproducing them for the Alumni Newsletter.
Celebrating their 10th anniversary as graduating campers,five bunkmates reunited this fall in Las Vegas. From left to right—Ali Levine, Rebecca Cohn, Jaime Hollander, JoAnna Datz, and Alexa Naas. JoAnna wrote: "There's nothing better than spending a weekend with your camp friends"....
Swiss counselor Dominique Buerki (2010-11) is living in Micronesia, doing fieldwork for her PhD in Linguistics, researching new emerging English varieties....
Artist Claudia Aronow (1960s) recently had an exhibit at the Gerald Peters Gallery in Manhattan.... Twin brothers Ian and Alan Ranzer were joined by former bunkmate Dan Rosen for a mini-reunion in February and sent in the photo to the left (holding pictures from the 1980s with them standing in the same order). When Ian recently moved to Montclair, NJ, he discovered that Stef Birbrower Greer (1980s) was a neighbor. Their sons are in kindergarten together.... Amy Paul Tunick (1988-96) is the President of Grey Activation & PR. The firm is preparing to launch a 2-year public engagement campaign in honor of the National Park Service's centennial.... Hal Bauman was Stu Schwartz's counselor in 1957 and 1958. They saw each other for the first time in 56 years this past October and sent in the photo to the left.... You can view Barry Pisetzner's (1970s-2010s) latest artwork at Pisetzner.com. He currently has several paintings on display at galleries in and around Atlantic City, NJ.... Scott Holland (1997-2006) is the co-founder of HireCanvas, a mobile tool for employers and students to better manage career fairs. Last spring, two weeks before graduating from NYU Stern's Langone MBA for Working Professionals program, Scott and a fellow student won the top prize in the school's annual $200K Entrepreneurs Challenge for creating the business startup.... When Jeff Landis (1990-2001) was re-locating from New Jersey to California and needed to drive his dog cross-country, he reached out to his Scatico friend Cory Schwartz (1980s-2010s) to keep him company on the road trip.... Former bunkmates Rob Sussman (with his son, a 2015 graduating Upper Senior, Darren) and Jimmy Rosenzweig (and his son Dustin) ran into each other on the ski slopes of Hunter Mountain.... Steve Atkins (1930s-40s—father of Jack, Dick, Chick, and Bob) was profiled in a Veteran's Day article in The Star Ledger, sharing memories of being part of the first wave landing on D-Day in 1944.... 1993 Soopers Beth Herbstman Weinberg, Sara Michaelson Yarkon, Dori Popkin Chait, and Stacy Koretsky Strauss got together for an NYC dinner this fall.... Another NYC dinner reunited Fred Herman (1970s—visiting from his home in Albequerque, NM), Jack Atkins (1950s-60s), and Manny Toonkel (1950s-90s) got together for an NYC dinner this fall...
Lizzie Swerdlin (2002-11) currently works for Jane Street Entertainment, a company that produces realty TV shows. A 2014 graduate of Emerson College, this past fall she worked as a production assistant for Peter Pan Live! , which aired on NBC in December...
Five 2010 Soopers (now college Sophomores) made a winter pilgrimage to Elizaville and shared this photo from the steps of the Admin: front—Amanda Gerzog and Stacey Blumenreich; back—Alana Pollack, Hailey Blumenreich, and Maddie Bianchi.... Mitch Polay (1980s-2000s) ran into Matt Schumer (a 2015 Upper Senior and son of Stacey Lipton Schumer—1982-1992) at a January performance of Medieval Times in Lyndhurst, NJ. Mitch, a Yonkers, NY, school teacher, is receiving a Leadership-in-Education Award from JCY-Westchester Community Partners.... Becky Hill helped run the Scatico office from 1996-2002. She's now a barrister in London, specializing in Court of Protection work. She reports that her new office is located in London Bridge at the 1607 birthplace of John Harvard.... A reunion in Los Angeles brought together 1970s-80s Scaticonians Dan Oshatz, Jon Deutsch, Rob Rosen, Mike Madorsky, Dan Deutsch, and Dean Silverman....
Thanks to all for staying in touch—please e-mail news and photos for the Fall 2015 issue of the Alumni Newsletter to info@scatico.com.
it was 20 years ago today...
(well almost, the summer of 1994)
congratulations
Send announcements to info@scatico.com
The Next Generation
Markus

on 2/14/15 to

Romesch

and

Janja Markus due

. A native of Slovenia, Janja spent 6 summers on staff, beginning in 2008 and running the girls waterfront in 2014.

Sophie Ryan

on 10/17/14 to

Alex

and

Jen Florin

Finkel

(1980s-90s). Jen's father

Steve and brothers

Doug

and

Matt

also attended Scatico.

Quinn Ivy

on 10/16/14 to

Rachel

and

Jared Shapiro

(1980s-90s)

.

Uncle

Nick Shapiro

was also a camper.

Crispin Gene on 12/8/14 to

Jonny

and

Dale Margolin

Cecka

(1990s).

Ryder Jacob

on 1/8/15 to

Dan

and

Jaime Horowitz

Millman

. Jaime's dad

Gerry

and sister

Kara also at

tended Scatico (1990s).

Jules

on 12/11/14 to

Seth

and Andrea Wagner Alhadeff

(1985-2013).

Uncle

Josh Wagner

was also a camper.

Max

and

Eli in January 2015 to current camp parents Giles

and

Jillian Cueff

. Big sister

Chloe will be a Jinter this summer after graduating from the 1-week Scatico-in-Training pro

gram in 2014.
Weddings
Jim Hosking

(1997-2015) and

Caroline Chambers (2001-2011)

first met at Scatico as international counselors in 2001.They were married this past July in England.

Neil Seligman

(1998-2014) and

Andrew

"Troy" O'Brien

(1999-2002) helped celebrate, with Troy flying in from Australia.

Andrew Fabian (1985-94) and Rebecca Packer were married on December 6, 2014, in Jamaica. Scaticonians joining the celebration were (see photo above): back row—Lawrence Thaler, David Keller, Mal Keller, Dennis Plehn, Dan Petroff, Jason Keller, Josh Alper and Greg Mazarin; and, front row—Dan Altchek (who co-officiated the wedding), brother and Best Man Dan Fabian, Andrew, father Larry Fabian, Steve "Scooter" Schneider, and Marcia Thaler. Larry, Dennis, and Scooter were bunkmates in the 1950s and 1960s.
ww.scatico.com
New and improved—re-launched this winter.... Thanks to former camper, counselor, and division leader Max Bosch (2003-09) for creating and implementing. Max is a freelance website designer. The site includes back issues of Camper and Alumni Newsletters as well as (in the media section) camp videos and photo albums. Max has also partnered with his former bunkmate and co-counselor Brian Helfman (1997-2009) to launch TAABS, an NYC nightlife search App.
we will miss you
Singer and song-writer

Leslie Gore

on February 16, 2015. Leslie attended camp in the 1950s and

1960s. Scatico legend recounts how her younger brother

Michael

sold autographs for $1 when she visited camp in 1963 as a 17-year-

old with the #1 song "It's My Party." She received an Academy Award nomination in 1981 for "

Out Here on My Own,"

co-written with Michael for

the film "

Fame."

Michael won the Academy Award that year for writing the title track to the film

—

the first time two songs from the same movie were nominated in the same category. Bunkmate

Karen Behrman Shearer

shared the following:

"Lesley was a great individual besides her

great singing talent. When we were kids at camp, she was a strong, compassionate, and empowering person, curious, insightful, not to mention her wicked sense of humor. It was a gift for any

one to have known her and for me to call her my friend.... She and her brother sat at the piano singing and writing songs when they were just kids! They were amazing."

Tom Holman

on March 16, 2015. Tom and his brother

Bert

attended camp in the 1960s. Tom was an art historian, author, and private art advisor. During the past 40 years he served as the Chief Curator at the Norton Museum of Art, Curator of Collections at the Minnesota Museum of American Art, Associate Director at Forum Gallery, and Executive Director at the Hudson River Museum, Albany Museum of Art, and Marietta/Cobb Museum of Art.
Richard Hanft

(1950s-

60s) on February 6, 2015. For nearly twenty summers, Richie's presence

loomed large on boys side as a camper, counselor, division leader, and longtime Color War Judge. The latter title prepared him for his career as a judge for Rensselaer County Family Court and his work for the NYS Office of Chil

dren and Family Services. His brother

Steve

and son

Michael

were also longtime Scaticonians. Former boys head counselor

Stan Silverberg (

1950-73) and his wife

Joan

recalled Rich fondly:

"We knew

Richie as a camper, counselor, division leader, and a friend. We were not surprised that his personality and ability took him to a career as a Judge. We were thrilled to see him on the podium as a speaker at the University of Albany graduation of our daughter Dana. We remember the days when Dana would only trust Richie to take her on the horse ride at the Carnivals year after year. Richie was a great kid at camp,

one of the good guys you could always count on. We have no doubt that our lives and the lives of

many others were enriched by this exceptional person."

Susan Kaye Melchner

(1950s) on October 13, 2014. Susan attended camp with her brother

Robert

and sister

Brenda Kaye Pace

.